Smart Monitoring


and it all works

We ensure continuity of businesses
and peace of mind for Admins

Smart Monitoring
– Atende's proprietary solution for monitoring IT services
Ensuring business continuity is the primary and largest challenge facing IT teams today. Interruptions in the operation of IT systems prevent the proper functioning of the organisation and can result in significant financial and reputational losses.
Business-critical applications might not work optimally for a number of reasons: lack of computing power, badly-configured software, network configuration error or other internal or external factors. The key issue is to provide up-to-date information about the status of the organisation's systems through their constant monitoring and immediate response to undesirable phenomena.
Smart Monitoring is Atende's proprietary service which consists in 24-hour monitoring of IT infrastructure and applications, combined with a system of response to events. The primary objective of the service is to ensure business continuity. Our Smart Monitoring solution provides all those responsible for IT management with the most up-to-date information about the status of IT systems and key applications.
Smart Monitoring
includes
01
business applications
02
private and public cloud
03
system software
04
IT networks
05
servers and mass storage
06
data centre infrastructure
Key features of
Smart Monitoring
more than 1,800 monitored parameters

a team of 50 certified engineers

service model

flexible billing model (pay-as-you-go)

service available 24/7/365

immediate notification of events

notifications available by phone, SMS or email
Key benefits of
Smart Monitoring
01
Business continuity
Reduced number of failures
and downtime
02
Up-to-date data
Constant access to up-to-date
information about the status
of the environment subject to monitoring
03
Time
Reduced response time
to events
04
Adjustment
Response procedures matched
to customer's requirements
05
Availability
Increased availability
of IT systems
06
Savings
Savings resulting from the fact
that you do not need
to employ qualified engineers
Top specialists and certified engineers
Smart Monitoring is not just a set of tools that guarantee up-to-date information about what is happening in the infrastructure or applications. It is also a professional team responsible for immediate response to events on the basis of individually defined and flexible procedures.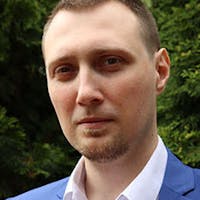 Krystian Barabasz
MANAGER OF THE CLOUD AND SYSTEM SERVICES TEAM AT ATENDE SA
Don't hesitate to contact me.
Piotr Nadrowski
Key Account Sales Manager