SMaCS

– from 2.5G to 5G

Efficiently manage mobile services on all generations of networks

At the core of business logic management systems for data transmission-based products, there is typically a Policy Control and Rules Function (PCRF) solution. It allows, among others, comparison of phone calls with VoLTE and VoWiFi technologies and management of policies such as: quality of data transmission, network indication and prediction of what applications are used by the subscriber and when they will have free data transmission, as well as control of the limit of data the customer can use as part of their tariff.
In the 5G network, the role of the PCRF (in this case referred to as PCF — Policy Control Function) has become even more important. There is practically no part of the ecosystem of services offered by 5G operators that is not impacted by PCF.
Opt for
Atende SMaCS
: dedicated PCRF
From the beginning, Atende has participated in the transition of the Polish market of mobile telecommunication from the voice-call oriented network to the data transmission-oriented network. The company has supported Polish mobile network operators in making this transformation, building the EPC (Evolved Packet Core) network for them. Based on that experience and in response to customer demand, the SMaCS (Service Management and Charging System) solution was created.
SMaCS is a proprietary PCRF solution, created in the area of management of the quality of service provided to subscribers and to make settlements related to their consumption. For many years, it has been at the heart of the transmission system of the leading mobile operators in Poland. The system evolves with new customer needs, adapting to the rapidly changing landscape of operator services.
A unique combination of the PCRF functions

, a settlement system (Online Charging System) and an internal database of user profiles

PCRF/OCS function

for data transmission products which uses parameters such as user profile, amount of data used up, etc., in decision-making

Compatibility with standard components

of telecommunication networks (mobile and stationary): GGSN/PGW, P-CSCF, SPR, OCS

PCRF function for the VoLTE/VoWiFi services

and the 3GPP AAA system — a component necessary for the provision of the VoWiFi service

PCF function

in the 5G network

Easy adaptation and integration

with customised, customer-specific systems

01
Control
Controlling the consumption of data in a fully autonomous manner or in cooperation with an external OCS
02
Simplification
Modularity and easy reconfiguration to create and support complex business scenarios
03
Integration
Combining network control over the old and new 5G technology in a single system
04
Consistency
The ability to offer consistent product portfolio to subscribers of mobile services, regardless of the technology they are using
With Atende's SMaCS, operators can have peace of mind as they get a tool for efficient servicing of millions of customers but also for quick introduction of new services. That is the key to success, particularly on the mobile services market. We have been developing and updating our solutions from day one, taking into account fast changes in the EPC area.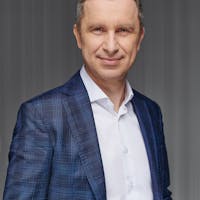 Andrzej Jaśkiewicz
DIRECTOR OF THE MOBILE SOLUTIONS DEPARTMENT AT ATENDE SA
Don't hesitate to contact me.
Krzysztof Dąbkowski
Key Account Sales Manager